| | |
| --- | --- |
| | Kerala Wild Life Sanctuaries |
| | |
| --- | --- |
| | Kerala Eco Tourism Projects |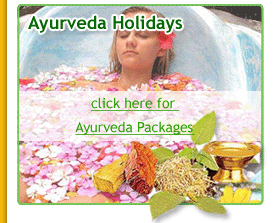 ATTRACTIVE KERALA DESTINATIONS
Embark on Kerala Tour and get drenched into the sun, explore the extraordinary beauty, experience the cool puff of air, and inhale the whiff of sweet–smelling spices. Reside in Kerala Houseboat and sail over serene Kerala Backwaters to enjoy the lovely countryside and natural beauty of Kerala on your tours to Kerala, South India. Munnar is one of most popular Hill Stations of Kerala, South India. Get rejuvenated with Ayurveda in Kerala, South India. Enjoy exciting Snake Boat Races and spellbinding Kath Kali dance performance. Fall in love feel romantic on Honeymoon in Kerala. Join Kerala Tour with Keralamate and cherish the outstanding magic of GodZ's own Country – Kerala, South India.
Kerala Hill Stations :
When we talk about Kerala, India, firstly pictures of beaches, backwater, wildlife and sea come in our minds. But factually, Kerala, rightly known as the God's own country, is also endowed with a vast and rich treasure of extra–ordinary natural beauty and some of most breathtakingly beautiful Hill Stations in India. Kerala Hill Stations in India are getting popularity among tourists from all around the world with a vast pace. Kerala Hill Stations in India are dotted with evergreen grasslands, stretches of rejuvenation fragrance of tea and coffer plantations and offer fabulous panorama of hills, waterfalls, and pleasant climate.

The other facts about Hill Stations of Kerala are they are home to the famous tea, coffee, rubber and spices plantations. he Hill Station of Kerala, India grabs the attentions of tourists for their pleasant climate and exceptional natural beauty. Hill Stations of Kerala are also popular for proximity to some exotic wildlife sanctuaries. Kerala Hill Stations are also very popular among honeymooners. Hill Stations of Kerala offer agreeable ambience for honeymooners. Honeymoon in Kerala, India is truly a mesmerizing and rewarding experience. Some major Hill Stations in Kerala, India are Wayanad, Munnar, Thekkady, Idukki, Ponmudi, Vagamon, etc.
Kerala Backwater :
| | |
| --- | --- |
| | Kerala Backwaters are an incredible fact of Kerala, South India. Backwaters in Kerala are mesmerizing blend of lagoons, canals, lakes, and rivers which pass through the length of this breathtaking land. On your tours to Kerala, board on Kerala Houseboat or Kettuvallam and sail over the Kerala Backwater enjoying spectacular views of verdant stretches of paddy fields, coconut trees, and countryside of Kerala, South India. You can't imagine complete tours to Backwaters of Kerala without residing in Kerala Houseboat or Kettuvallam. Surely, Kerala Backwaters with Kerala Houseboat will be a rewarding experience. Some major backwater destinations of Kerala are Kumarakom, Kollam, Kozhikode, etc |
Kerala Beaches :
| | |
| --- | --- |
| When we talk about Kerala the first thing comes in our mind is none other than its breathtakingly beautiful sun–kissed beaches. Kerala Beaches are famous in all over India and also in abroad. Dotted with Palm Coconut trees, golden beaches of Kerala offers spectacular views for every tourist and creates a romantic ambience for honeymooners. Embark on Kerala Beach Tour and wind down on squashy golden sands of beaches of Kerala under the shade of the palm coconut trees and experience cool puff of gentle breeze. | |
Kerala Ayurveda :
| | |
| --- | --- |
| | Kerala, God's own country, has become synonymous of Ayurveda in India. Ayurveda is an ancient holistic science which includes diet, herbal remedies, excise, massage, yoga, aromas, mantras, and tantras and meditation and emphasizes the use of body, mind, sprit, emotions, and psychology in prevention and treatment. Today Kerala is the major destination for those who want to get rejuvenated with Indian ancient treatment system–Ayurveda. Ayurveda in Kerala is at its boom. In Kerala there are a number of Ayurvedic Treatment & Massage Centres. Embark on Kerala Ayurveda Tour and get refreshed and revitalized. |
Kerala Wildlife :
| | |
| --- | --- |
| Besides lovely beaches, backwaters and natural beauties, Kerala has in store some of the best wildlife sanctuaries in and national parks in the country. Kerala enjoys rich flora and fauna. Wildlife in Kerala is an amazing and pleasant experience. While on Kerala tour, don't miss to enjoy the fascinations of wildlife in Kerala. Some major Kerala Wildlife Sanctuaries and National Parks of Kerala are Periyar Wildlife Sanctuary, Ervikulam National Park, Silent Valley National Park, etc. These are closely associated with the customs, traditions, and social life of Kerala for centuries. | |