| | |
| --- | --- |
| | Kerala Wild Life Sanctuaries |
| | |
| --- | --- |
| | Kerala Eco Tourism Projects |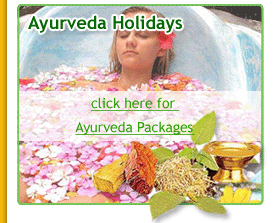 Location:
Located on the coast of the Arabian sea .
Ernakulam district is a cluster of islands networked by lagoons and backwaters. Kochi , one of the finest natural harbours in the world, was once a major centre of commerce and trade with the Arabs, Chinese, Portuguese, Dutch and the British. The commercial capital and the most cosmopolitan city of Kerala , Kochi is also known as the Queen of the Arabian Sea . The foreign traders have left their mark on this beautiful island. Half the fun of visiting Kochi is moving around on the local ferries. A conducted cruise through the winding waterways will take you to several quaint spots.
| | |
| --- | --- |
| Cherai (Beach) : The lovely beach bordering Vypeen island is ideal for swimming. Dolphins are occasionally seen here. A typical Kerala village with paddy fields and coconut groves nearby is an added attraction of this beach. | |
Vypeen island (21 km from the city) is a major centre of commerce. The island which is connected to the mainland by a bridge is more easily accessible by boat. The ferry ride over the backwaters takes just 30 minutes.
| | |
| --- | --- |
| | Fort Kochi (Beach): Access: Backwater ferry / bus / three wheeler auto rickshaw. A leisurely walk through the city is the best way to discover the historic Fort Kochi . An obscure fishing village that became the first European township in India , Kochi has an eventful and colourful history to tell. Its reputation as a seafaring commercial town was such that Nicolas Conti, an Italian traveller of the middle ages remarked: If China is where you make your money, then Kochi surely is the place to spend it. |
The town was shaped by the Portuguese, the Dutch and later the British. The result of these cultural interfaces is seen in the many remains of Indo European architecture that still exist here.
The huge cantilevered Chinese fishing nets which were brought here by traders from the court of Kublai Khan, are a fascinating sight on the Kochi shore line.
Bolghatty Island (Backwater): This island is famous for its palace of the same name. The Bolghatty Palace was built in 1744 by the Dutch and later taken over by the British. Today it is a hotel run by the Kerala Tourism Development Corporation, with a small golf course and special honeymoon cottages.
| | |
| --- | --- |
| Willingdon Island (Backwater): Named after Lord Willingdon, a British Viceroy to India , this manmade island is surrounded by beautiful backwaters. The island is the site of the city's best hotels, customs and trading centres, the port trust and the headquarters of the southern naval command. port, about 10 km. | |