| | |
| --- | --- |
| | Kerala Wild Life Sanctuaries |
| | |
| --- | --- |
| | Kerala Eco Tourism Projects |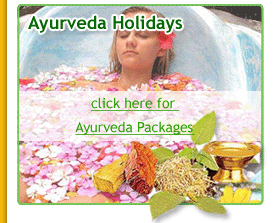 Location :
16 kms from Kozhikode (Calicut) (Calicut), this is the historic beach where Vasco-da-Gama landed on the 27th of May 1498, with 170 men in three vessels. A monument on the beach commemorates this historic event. The rock studded beach is locally known as Kappakadavu. An interesting feature of the landscape is the sprawling rock that protrudes into the sea. The temple on the rock is believed to be 800 years old.

Attractions :
Kappad offers the unique backwaters, which consist of a complex network of lagoons, lakes & canals. Traveling on these backwaters is an experience one can never forget. Life on the backwaters is entirely different; water being the key to everything. There are no roads here, only waterways. On the banks one can see lush green rice fields spreading away into the distance and coconut groves with the occasional temple or church.

These canals or waterways, vary in dimension from being wide enough to be dubbed lakes, rich with marine bounty. To being nothing but snaking silvers of freshwater. And are mainly concentrated around the townships of Allepey, Kumarakom, Kottayam, Kollam and Kochi.

The backwaters are best experienced while slowly moving down the labyrinth of canals in a traditional thatch-roofed houseboat, known as 'Kettuvallam'. An experience you will remember for a long time.
| | |
| --- | --- |
| | A boat ride into the countryside offers a close look at rustic village life- skiff-fishermen launching their cockleshell boats, large flocks of domesticated ducks waddling down to the water from thatched houses on the banks. Women, neck-deep in water, with their waist-length hair heaped in a crown, catching fish with their feet, aimless cattle grazing in lush pastures, white lotuses floating here and there in small, shallow ponds. |
Short cruise on backwaters are also available on the smaller boat If you don't want to stay overnight or longer in the houseboats. The duration of these cruises are depends on the routing & can be covered In 3 to 6 hrs of time period.
| | |
| --- | --- |
| | With its own dream-like serenity, this natural fresh water lake surrounded by meadows and trees on all sides is a haven for peace-loving travellers. It is located half way from Calicut half an hour ahead of Kalpetta. |