| | |
| --- | --- |
| | Kerala Wild Life Sanctuaries |
| | |
| --- | --- |
| | Kerala Eco Tourism Projects |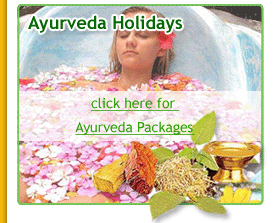 | | | |
| --- | --- | --- |
| A progeny of India's ancient Vedic culture, Ayurveda is considered as one of the oldest surviving holistic healing system in the World. The word Ayurveda is a conjugation of two Sanskrit words "ayu" meaning life and "Veda" meaning knowledge. Ayurveda posses a comprehensive outlook to a healthy life and is less about curing a specific ailment than restoring body and mind to their natural state of equilibrium. | | |
The 5000-year-old science of Ayurveda is rapidly gaining acceptance all over the world. Today, Ayurveda is part of a new movement towards a global medicine that includes the best developments from all lands. Ayurveda is fashionable not only because of its exotic array of treatments, but because, barring the more extreme therapies, it feels good.
Kerala is the most favored location for a person looking for Ayurvedic treatment. In fact, today, Kerala is the only State in India, which practices this system of medicine and is home for various institutions and individuals practicing Ayurveda from very ancient times.
Kerala has developed its own Ayurvedic treatment modalities like Dhara, Pizhichil, Navarakizhi, Elakizhi, Sirovasthi, Thalapothichil etc. which are highly effective in a number of diseases which include Motor neuron diseases, Arthritis of various kinds, skin diseases, heart diseases, peptic ulcer, Asthma, Peripheral vascular diseases and Gynecological disorders.
Kerala also possess distinct types of rejuvenation therapies such as:
"Kayakalpa Chikitsa" : This is body Immunization and Longevity Treatment It will retard the aging process by arresting the degeneration of body cells and immunization of the system. The therapy is most effective for either sex if undertaken before the age of 50.
"Rasayana Chikitsa" : This therapy increases the vitality of body and improves mental clarity. It tones up the skin and rejuvenates and strengthens all the tissues and increases the resistance of the body.
"Sweda Karma": This therapy eliminates impurities from the body and improves the tone and complexion of the skin; reduce fat and tones up the muscles.
"Abhyanga" : This treatment rejuvenates and strengthens all the tissues so as to achieve ideal health and longevity, strengthens the immune system, is beneficial for the eyes and gifts sound sleep