| | |
| --- | --- |
| | Kerala Wild Life Sanctuaries |
| | |
| --- | --- |
| | Kerala Eco Tourism Projects |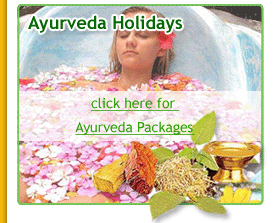 Periyar Tiger Reserve has following community based echo tourism packages for the visitors.These programmes are conducted by local people responsible for the surveillance of the vulnerable parts of the reserve. By taking tourists along, they are involved in the conservation of the forests of Periyar and some valuable revenue is generated for community welfare. People who once made a living by illegal operations in the forests have since become forest protectors and earn their livelihood through these programmes. Hence, as a visitor, when you join them in any of these programmes, you are directly contributing towards forest conservation and community welfare.
PROGRAMMES
Nature Walk - The guided day trek
Different nature trails traversing diverse habitats form the trekking routes, generally 4 to 5 km. in length. This is an interpretive programme offering excellent opportunity to watch birds, butterflies and other wildlife. The trails often pass through evergreen and moist deciduous forests interspersed with marshy grasslands.

The programme is offered between 7.00 am. and 10.30 am. and between 2.00 pm. and 3.00 pm. and lasts for about 3 hours. A maximum of 5 persons can go for trekking at a time along each nature trail, accompanied by a trained tribal guide. The Nature walk is the right programme to feel nature, hear her whispers and smell her flowers.
The Periyar Tiger Trail - Adventure trekking and camping
The programme is unique in being conducted by a team of poachers who turned protectors of the forests. The team members are hardy and dependable with an intimate knowledge of the forest terrain. The programmes are 1 night/2 days and 2 nights/3 days. The first day's trek starts at 9 am and ends by noon in the second or third day. The team consists of a maximum of 5 visitors, 5 guides and 2 forest officials. Normally 20 to 35 kms. of trekking distance will be covered, depending on the route chosen.

Here, one may chance to encounter much indigenous wildlife like Nilgiri langur, giant squirrel, elephant and who knows, even the tiger! The trek route passes through hills and valleys with a variety of tropical plants and wide-open spaces. Enroute vegetarian meals will be prepared and served and country tents will be pitched for holing up in the night. Trekking groups are accompanied by armed forest guards with good communication equipments, and geared to face any emergency situation. Remember to listen to unusual and strange adventure stories of the former poachers, now your guides and protectors of the forests.

Preconditions for joining the tiger trail

Visitors who are medically fit and aged between 15 - 65 are advised to take the tiger trail. Visitors should be serious nature lovers willing to sacrifice some of the luxuries and comforts of a hotel

Approx trekking – 22 to 25kms
Departure time 0900hrs at Govt Forest Office, Thekkedy.
Arrival time 1300hrs next day.
Cost including

All veg kerala meals
Tent Accommodation
All taxes
Bamboo Rafting - Dawn to dusk range hiking
This is a dawn to dusk range hiking and rafting programme through some of the richest forest tracts of Periyar Tiger Reserve. Starting at 8 am from the boat landing, a mosaic of habitats will be traversed before the party gets into rafts made of bamboos.

The forests are rich in bird life and arboreal animals like giant squirrel and Nilgiri langur. The rafting is for about three hours and one gets a panoramic view of forest-clad hills reflected on the lake. Animals like elephant, gaur and sambar are sighted keeping close to the edges of the lake.

The team hitchhikes back to the boat landing by about 5 pm. An armed guard and 4 guides will accompany a maximum of 10 tourists.

Programme
3 hrs bamboo rafting and 5 hrs trekking

Cost including

Packed lunch and coffee/tea and snacks.
Bamboo rafting and trekking
All taxes
Border Hiking - Protection oriented range hiking
This is a conservation oriented hard trek taking up a full day. The trekking starts at 8 o' clock in the morning and ends in the evening.

The route passes through undulating terrains. Altitudinal ranges of 900 meters to 1300 meters will be covered and the trekkers could glimpse the lofty escarpments bordering the park watershed and the vast plains down below. Gaur, sloth bear, elephant, etc. are often sighted along this route apart from birds and butterflies.

Maximum of 10 tourist can take the programme in two different groups. The trekkers will go with two guides and an armed forest guard. Vegetarian refreshments can be had en route.

Programme
9 hrs hard trekking
Time : 0800hrs to 1700hrs
Tribal Heritage - A peep into the past
Mannans are among the oldest indigenous group of people to inhabit Periyar Tiger Reserve. Till as late as 1940's, they used to live in the remotest areas of the tiger reserve eking out a simple living by fishing in the lake and cultivating a few crops.
Tribal Heritage Museum
| | |
| --- | --- |
| A tribal heritage museum built inside the Mannan settlement featuring various types of artifacts related to their ancient agricultural practices, marriage ceremonies, cultural events, dress code, rituals and death ceremonies is the hub of this ecotourism programme. Display of fishing gear, hunting weaponry, indigenous medicine and vessels, cereals, medicinal herbs, bamboo furnitures, etc. are other attractions providing a peep into their original culture. | |
The Programme
Tribal heritage visit is a two hour programme available on all days from 8 am. to 12 noon and 2 pm. to 4 pm.
It involves mainly the tribal museumvisit and trekking through the tribal hamlet situated within the periphery of Periyar Tiger Reserve accompanied by a tribal guide.
Jungle Inn - Jungle in the night
The programme

The forest cottage at Kokkara, about an hour walk from the Forest check post is an ideal place to board two persons hoping to share the quietness of the jungle night. Here one could relax, read a book, listen to the cicada or simply watch the forests outside.

The high point of the programme is walking through different forest types at prime time when animals tend to be more active. One can watch troops of langurs, giant squirrels, etc., besides many birds along this stretch. Who knows, if the goddess of fortune blesses you, a tiger could come out of the bushes chasing a herd of sambar deer!

The check in time and check out time are 3 pm. and 9 am. the following day respectively. Tea, snacks and dinner are provided.

Check in : 1500hrs
Check out : 0900hrs

Cost including

Staying accommodation with Tea, snacks and dinner
All taxes